Ed McNevin, the founder of the JPL softball leagues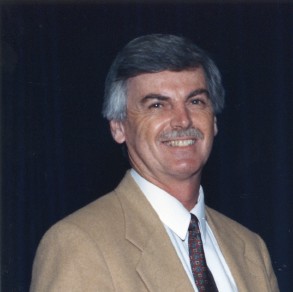 Ed McNevin founded the JPL softball program, and he managed all of its leagues singlehandedly for the first two decades.
Edward Donald McNevin, Jr. ("Ed", or "Ted" to his closest friends) was born in Brooklyn, New York, in 1938. He came to JPL in 1965 as a contractor and in 1967 became a regular employee. He came with his wife Ruth, who also worked for a while at JPL. Ed was always interested in sports as a fan and as a participant. In 1968, he started an informal JPL slo-pitch softball program. In 1970, he founded the JPL intramural softball program, under the auspices of JPL's Employees Recreation Club (ERC). Originally, there was only one league (no letters required). The league had 6 teams (including a team from the Caltech Biology Department), playing at Caltech's field. Then Caltech formed their own intramural softball league (for which credit is due to Ed). The JPL league played at many other venues. These teams were basically organization-based. Ed soon saw the need for a less competitive coed softball program to include more people, and in 1975 (approximately) started the B league. Finally, in 1979 (approximately), he founded the casual C league, with more coed participation, for almost anyone who wanted to play softball.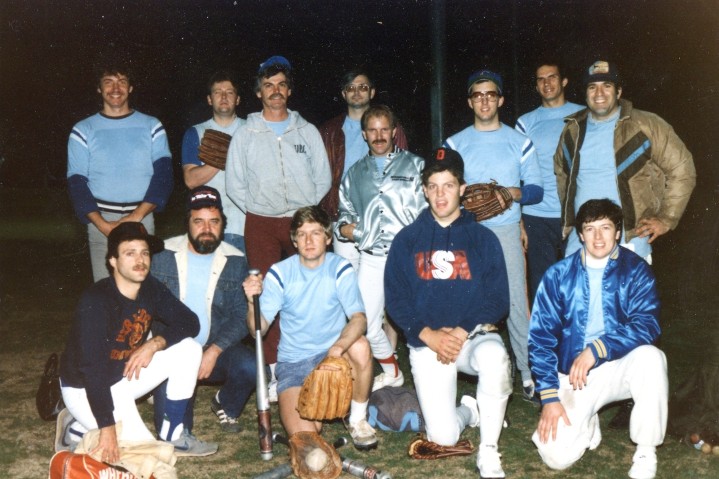 Ed's A league team circa 1986. Ed is in the back row, third from left. His son Skip is the tall fellow in the front row, second from right.

For many years, Ed single-handedly operated the entire softball program, while playing in the A league and the C league and managing a C league team. His C league team took the name of the original team, the Greezballs. Later, when Section 152 became Section 514, the team was renamed the P-51s.

Over the years, the A league appeared and disappeared, depending on whether there were at least four teams (Ed's rule). Eventually, the organizational basis weakened. For a few years in the 1980s there was also a coed D league, which was very organizational; some JPL Projects and Divisions had their own teams.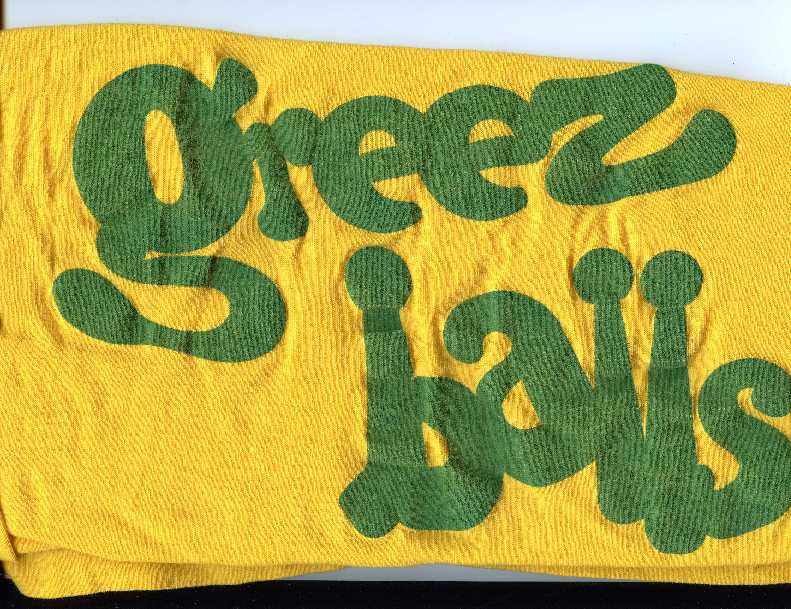 The C league was particularly successful. At its maximum there were 30 teams, each with more players than the more competitive league teams, typically 20-25 players. Hundreds of JPLers, contractors and family members were involved in the program. Finally, in the mid-1980s, Ed had to delegate some authority to a League Council composed of officers, commissioners for each league, and the team managers.
Ed's favorite result in the C league was a tie game. If his team was too far ahead, he would send out a very interesting set of players and defensive alignment. This was before he instituted C League's novel mercy rule that permits play to continue, while handicapping the stronger team from amassing an even bigger lead.
Ed's family also participated in the softball program. Ruth brought their first son Skip (born in 1966) to watch Ed play in the original league. Ruth pitched for the C league team for many years (except for maternity leaves

). When Skip was old enough, he played with his parents' C league team and later with his father in the A league. Skip was always trying to chase his Dad off of his shortstop position. Skip later worked at JPL. He also served on the League Council, most importantly as chairman of the Fields Committee (of one), with the difficult task of finding fields for all of the teams. Their younger son, Chris (born in 1973) also played on his parents' C league team.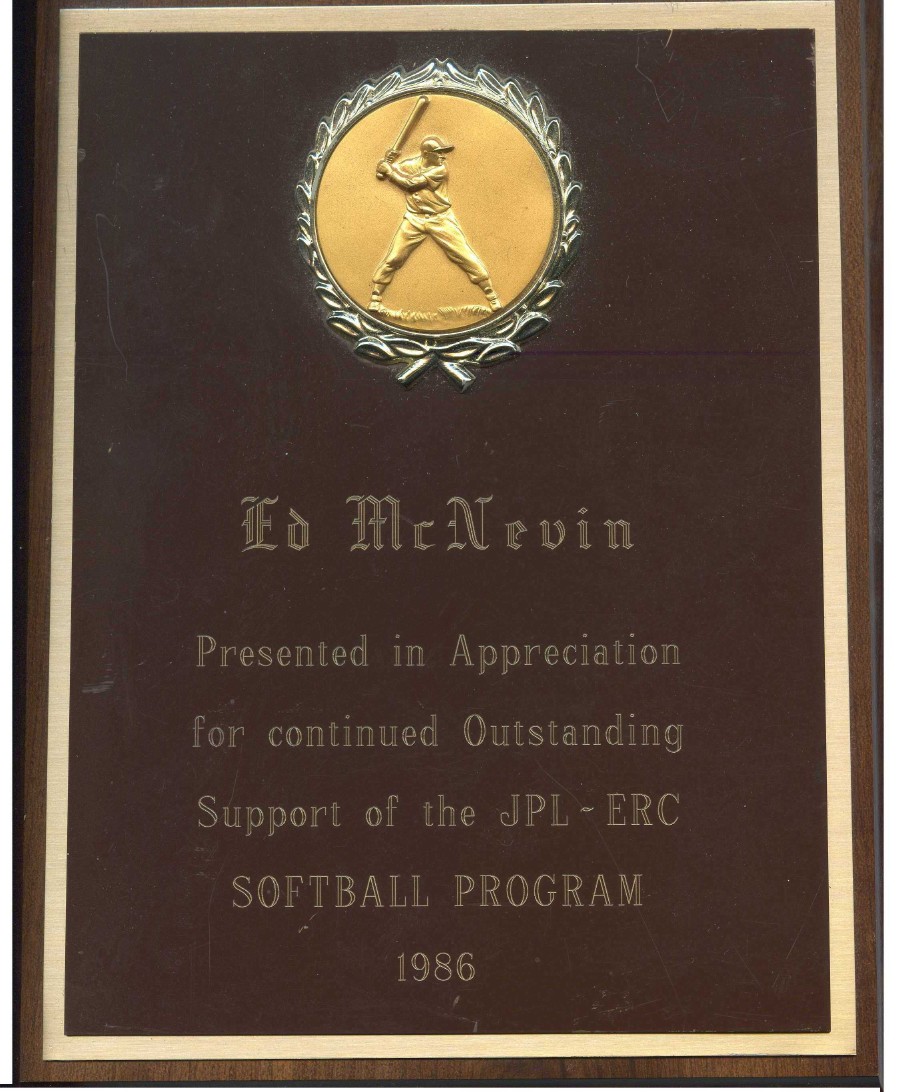 Ed's plaque from ERC, 1986.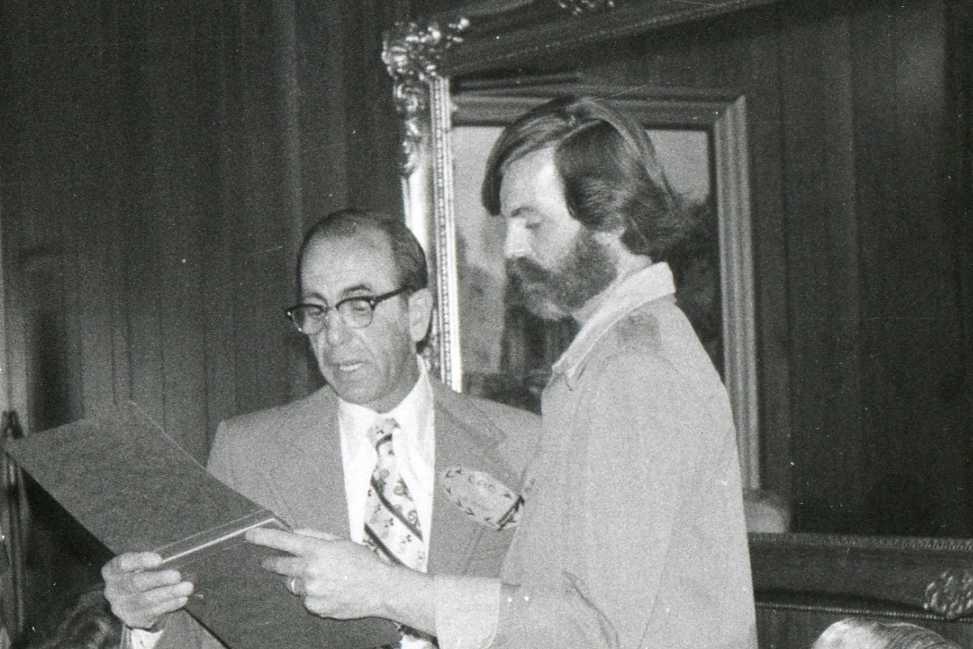 Ed's induction into the ERC Honor Roll, 1975.
Ed was recognized for his contributions. In 1975, he was made a member of the ERC Honor Roll. In 1984, the Softball Program honored Ed for all of his years as Commissioner. Finally, ERC presented him with a plaque in 1986. The softball program has been a great success. The B league and the C league continue to this day.
Ed played softball through 1993, when he became seriously ill. His beloved family, many friends and the JPL Softball Program lost Ed on December 8, 1997.